GL HOME THE LANIER COMPANY eMUSIC FOR WORSHIP eMEDIA FOR WORSHIP
HOUSE OF LANIER PUBLISHING SETH RECORDS BROADWAY RECORDING STUDIO GRACE PLACE INTERNATIONAL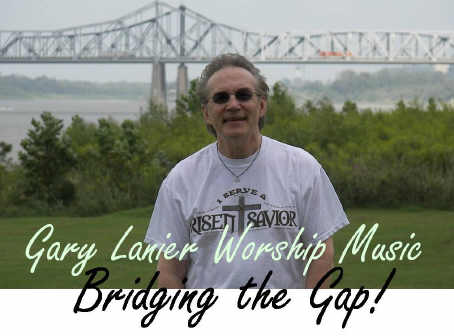 EXPERIENCE REVIVAL WITH
THE MUSIC & MINISTRY OF GARY LANIER!
The worship music and ministry of Gary Lanier is bridging the gap,
helping Believers in contemporary and traditional churches experience REVIVAL!
Using a blend of new worship music and familiar hymns,
Gary leads people in a style of worship that places everyone at ease!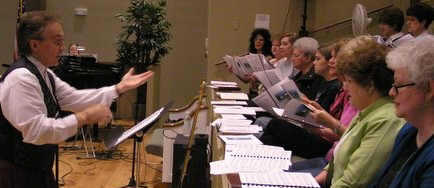 Gary includes everyone!
TRADITIONAL CHURCHES
Choir, Pianist, Organist, Additional Instrumentalists
CONTEMPORARY CHURCHES
Praise and Worship Teams, Musicians
Invite the Speaker of your choice to join with
Gary Lanier for a refreshing REVIVAL!
YES! I am interested a REVIVAL with GARY LANIER!
Gary Lanier Bio & Ministry Info
View a REVIVAL WORSHIP GUIDE
---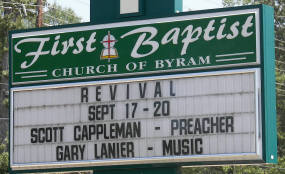 Read about a great REVIVAL in Byram, MS...

Carl Prewitt
Pastor,
First Baptist Church, Byram, MS
The Lord blessed the First Baptist Church of Byram, Jackson, Mississippi, with the ministry of Gary Lanier in a Revival effort. It is amazing what God has done in our church through his special approach to praise and worship.
We have had some confusion in the past few years over styles of music in our church. The fresh, open, and balanced worship style Gary brought to First Baptist was used by God to open many hearts to what true praise and worship is all about, the Lord Jesus. The music that Gary has composed, and the hymns that were selected were honored by God, with our people making many decisions to follow Christ, and others to become a part of First Baptist, Byram.
I thank Gary, for his commitment to glorify our Lord through the language of Heaven, praise and worship.

Lew King
Former: Minister of Music
First Baptist Church, Byram, MS
Former: Worship Pastor (Retired)
First Baptist Church, Bloomfield, NM
It's hard to put in words what happened in a revival at First Baptist Church of Byram, Ms, with Gary Lanier, but God touched our lives in powerful, and possibly even miraculous, ways.
Since the church has a good group of senior adults, I asked Gary to adapt his worship leadership to fit the congregation, which he graciously and effectively did. But, I was not expecting what God did with Gary's songs, in the life of the senior adults... they loved his songs!
I have been doing blended worship in church for several years, and I have never had a breakthrough like what happened with Gary in our revival. It was God touching the lives of seniors in a new and fresh way, and they loved it! Pastor Carl Prewitt and I called it nothing less than a miracle! If you have many senior adults in your congregation, you know what I'm talking about.
But, the entire church responded wonderfully to Gary's worship music, not just the senior adults. The choir was greatly blessed. On Saturday, before the revival, we had a special supper and revival choir rehearsal. I had been teaching the choir and congregation Gary's worship chorus, IN OUR MIDST, the song that was to be the revival theme. That night, as Gary led us through the song, using his guitar, one of my choir members said, with tears in her eyes, 'We have been singing this song to learn it for revival, and it was just a song. But just then, when we sang it with you, I saw your heart.' The revival had already started, and it wasn't even Sunday!
Gary's songs and worship leadership have really touched and blessed my own life. To my delight, when I started singing Gary's worship songs, they just really grabbed me and 'transported' me right to God. They are a combination of crystal clear lyrics and fresh music with melodic motifs that are nothing less than anointed. These songs took me from singing, to worshipping God face to face in just a few moments. It was a WORSHIP REVIVAL, and it was good!
I urge you - don't miss what God is doing, and wants to do, through the songs and ministry of Gary Lanier. Your church, and you, will be greatly blessed.

Scott Cappleman
Evangelist for First Baptist, Byram
Pastor,
Crosspoint Community Church, Starkville, MS
Gary's passion for leading in worshipping God is refreshing. I know God, in His sovereignty, worked to bring us together to serve the people of First Baptist Byram. I was touched by many of his songs. God has given him a special gift through songwriting, and I appreciate him sharing it with all of us.
---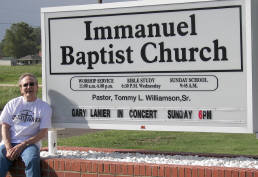 Read about a great WORSHIP CONCERT in Greenwood, MS...

Jeff Byars
Former Minister of Music
Immanuel Baptist Church, Greenwood, MS
WOW! What an awesome time we experienced, as Gary led us in true worship! Thank you, Gary, for allowing God to use you to bring us into His presence. I cannot remember a time when I have experienced God's presence in me, and around me, as I did in the service as Gary led.
Gary is a down to earth instrument of God, willing to do whatever God sends him to do, and willing to go wherever He asks him to go. Thank you for being unselfish, and so full of His love.
---

YES!
I am interested in a REVIVAL
with GARY LANIER!
Gary Lanier Bio & Ministry Info
---
FIND GARY LANIER MUSIC AT
The Lanier Company
in association with:
BMI - Broadcast Music Incorporated
CCLI - Christian Copyright Licensing International
The Lanier Company . music@thelaniercompany.com
House of Lanier Publishing Company . music@thelaniercompany.com
New Creation Ministries . mail@ncministries.org
Gary Lanier . gary@thelaniercompany.com
123 N Broadway . Broken Bow, OK 74728 . 580.584.2889